Frost & Sullivan Awards Kenandy with the 2017 Product Leadership Award for Best ERP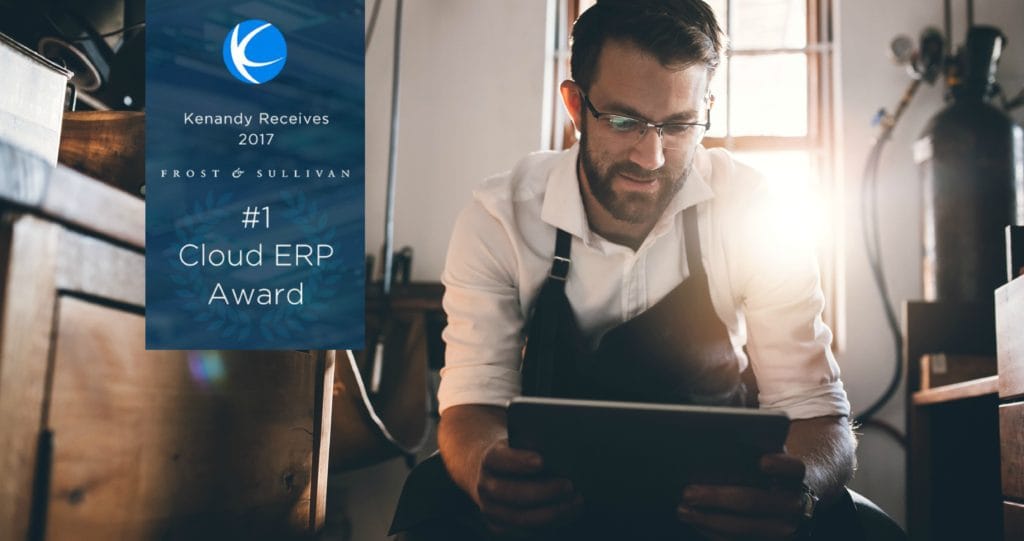 This post is a contribution by Kenandy's CEO, Chuck Berger.
The distinguished research firm, Frost & Sullivan has selected Kenandy as the #1 Cloud ERP for small and mid-sized manufacturing companies. While this may not be surprising to myself or our customers who enjoy the benefits of our robust enterprise resource planning solution every day, our team is honored to receive the recognition. One of the reasons I joined the company was because of how impressed I was with Kenandy's best-in-class, end-to-end Cloud ERP built natively on Salesforce. As a former manufacturing company CEO, I knew the immediate positive impact Kenandy's product would have on customers' business operations. It is exciting to see our incredible team receive this well-deserved recognition for market innovation.
Frost & Sullivan's 2017 Product Leadership Award states that "Kenandy Cloud ERP is the only complete ERP solution on the Salesforce Platform," and that "Kenandy is redefining the ERP market by allowing customers to map their ERP to their evolving business processes, enabling them to scale their businesses easily, grow their revenues quickly, update their models as their businesses evolve in tandem with emerging market trends, and be unrestrained by outdated table-based ERP systems."
UNDERSTANDING AND ANTICIPATING CUSTOMER NEEDS
Kenandy Cloud ERP on Salesforce is a solution that understands what is most important to our customers today and has the capabilities to adapt to customer needs in the future. The product leadership award highlights this as well and says, Kenandy's ERP system has unlimited computing capability, along with a unique architecture of Business Ready Objects. Kenandy has designed an end-to-end Cloud ERP solution that maps to its customers' business processes and not the other way around, as in the case in old ERP systems." Our team has worked diligently to build an ERP that allows customers to leverage what is working for their business so that companies don't need to spend time trying to force their processes to fit into a rigid and dated ERP system.
THE POWER OF DESIGN: A DIFFERENTIATED PRODUCT ARCHITECTURE
While most ERPs are known for being rigid and a headache to change, Kenandy Cloud ERP on Salesforce is flexible and ready for changes as a company grows. This flexibility is in stark contrast to legacy ERP systems and really, any other ERP on the market. When you allow companies to spend time and energy on their business rather than re-working their ERP, they have the freedom to innovate. Identifying how important this is for companies, especially for those in the small to mid-sized manufacturing space, Frost & Sullivan says, "Kenandy's flexible design and faster implementation capabilities have enabled manufacturers to boost output as well as time-to-market products with more efficient production and inventory management. Kenandy's customers can ramp up fully in weeks, make ERP changes for their business needs anytime, and easily develop new products or penetrate markets."
As other cloud ERP vendors patch modules together in the cloud as an attempt to look like a modern ERP, their technology architecture is actually structured exactly like the on-premise ERP systems from the 80's. This often includes many loosely connected modules and tens of thousands of data tables, leading to clunky user experiences and challenges with data accuracy. As other ERP systems try to infer innovation because they leverage some cloud technology, their dated technology architecture gets in the way of business innovation. Kenandy is known for its ability to adapt as companies create new business processes. Leaders managing legacy ERP systems now have the opportunity to leave behind their barriers to innovation with an easy-to-update ERP that can advance their business value and improve customer relationships.
With 200% year-on-year growth in 2016, I'm incredibly proud of our team and we are excited that Frost & Sullivan has recognized Kenandy's market leadership and unmatched product and service value. "Each year, Frost & Sullivan presents the North American Product Leadership Award to the company that has developed a comprehensive product line to best serve the complex needs of the small and mid-sized manufacturing market. The #1 Cloud ERP Award recognizes Kenandy's advanced ability to deliver customer value and the company's increased market share."