San Francisco Salesforce Developers Collaborate and Create a Dialogue on Global Picklists
A little over a week ago, the Bay Area Salesforce Developer User Group (commonly seen on Twitter with great content on the #BASFDUG hashtag) held its monthly meetup at Salesforce Cafe in San Francisco. As the largest Salesforce Developer User Group, Co-Organizer and Kenandy Lead Applications Engineer, Daniel Peter shared that the new location provided ample space for the growing group.
This meetup highlighted one of the most requested Salesforce features of all time, Global Picklists, which are generally available with the Winter '17 Salesforce Release. Aaron Slettehaugh, Global picklists allow users to share picklists across objects, rather than having to customize each picklist by individual object. Senior Director, Product Management, Salesforce Platform, introduced the presenters and team members who helped make the requested feature a reality: Vladimir Gerasimov, Senior Product Manager at Salesforce, and Joyce Yeh, Software Engineer at Salesforce.
With over 100 attendees, meetup attendees also included past presenters and Salesforce rock stars Chris Duarte, Editor-in-chief at Trailhead, and Kieren Jameson, Trailhead Editor.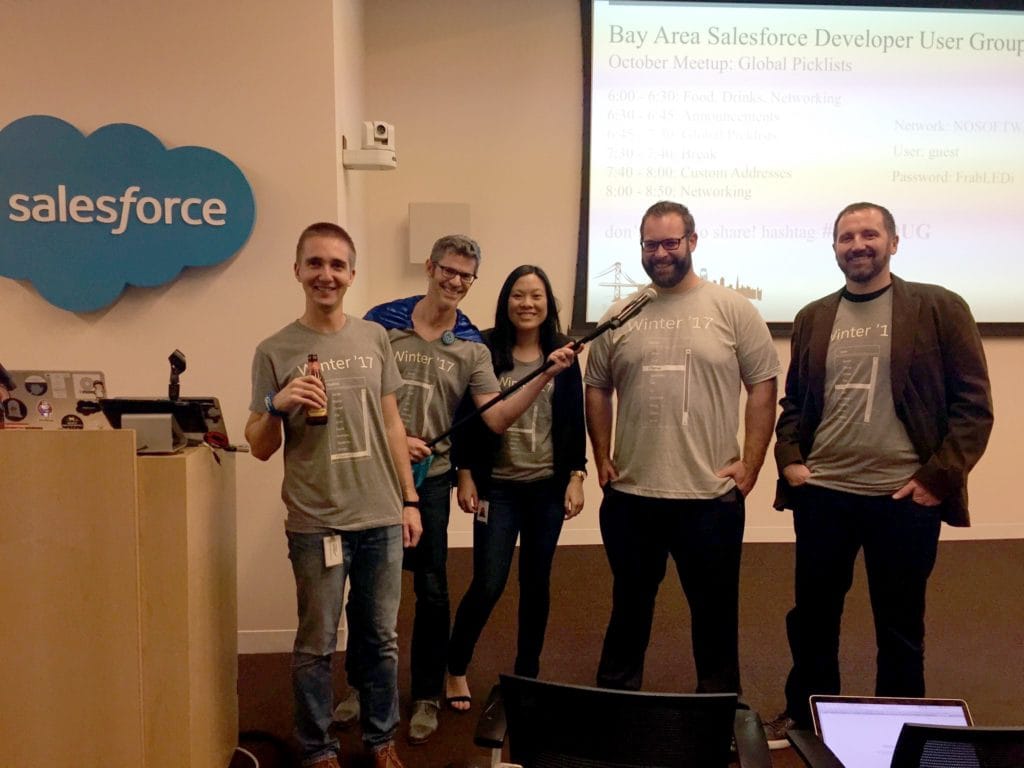 (Photo of Vlad Gerasimov, Aaron Slettehaugh, Joyce Yeh, Daniel Peter, John Bracken)
Vladimir and Joyce discussed Global Picklists, which came from Alex Sutherland on Salesforce's IdeaExchange.The Salesforce team was proud to have delivered such a widely requested feature; they discussed what went into building it, how it works, and the projected road map with additional enhancements down the line. It's fascinating to see how Salesforce genuinely values feedback and incorporates it into the future releases of the product.
Thanks to the significant community support and votes behind this idea, Alex received the "King of IdeaExchange" award at Dreamforce '16. Below is a photo of him with the co-founder of Salesforce, Parker Harris.
Both the presentation and the discussion afterwards show Salesforce's dedication to collaboration with the community. Aaron, as Product Manager, opened up a dialogue to get feedback specific to Custom Addresses, given that the possible new feature has to support the many different ways addresses are written around the world. Non-profits were an interesting part of the discussion as they have their own special model data since those addresses are important for fundraising activities.
Overall, we came away with excitement for the new features within the Winter '17 Release and very impressed with how Salesforce continues to listen to community feedback and incorporates it in the product road map. See more photos from the event here, and check out their next meetup Salesforce DX (Developer Experience) on the last Wednesday of November. Thanks to Mallory Leggere, Marketing Program Manager at Salesforce, for coordinating and hosting such a great event!