Salesforce1 World Tour: A mini-Dreamforce on the Road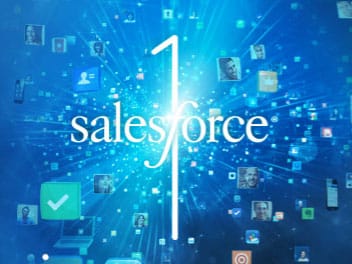 Kenandy was proud to sponsor the Salesforce1 World Tour at its last stop in Anaheim on Tuesday. It looked and felt like a mini-Dreamforce: upbeat music blasting through the speakers, blue up-lights everywhere, and an incredible keynote address jam packed with customer stories.
Lots of vendors in the enterprise software space were present, and as usual, Kenandy's name was thrown around throughout the day as one of Salesforce's top partners!
SoCal reps Kristen Gallagher and Jason Gorski give a celebratory high five
The keynote was nothing short of inspiring. They started off with the story of Sean Penn's Haitian Relief Organization, and how Salesforce enabled them to deliver government stipends to thousands of Haitian mothers to get their children back in school.
Everyone seated in-the-rounds with giant flat screens in each corner of the room
Maria Martinez, President of Sales and Customer Service at Salesforce, gave a great speech and introduced many other customers and their stories, everyone from Stanley Black & Decker to Sony Playstation.
Maria Martinez introduces the Internet of Customers
The rest of the day was filled with great talks on a wide variety of subjects. We received a lot of incidental knowledge being situated right next to the partner theater!
Overall, a great day and a great experience! Can't wait for Dreamforce!